Establish and Navigate a Research Career: Forging Your Own Path and Expecting the Unexpected
ITHS Careen Development Event
Join us for this session with Professor Tueng T. Shen on establishing your career pathway in research with opportunities to learn from others to define your own formula for a research career. Professor Shen will share her own experience in research, ideas for finding your own ways to develop the best career path forward, and the importance of embracing the unexpected.
LEARNING OBJECTIVES
At the end of the session, participants will:
Identify at least one primary reason that you are pursuing a career in research
List at least one thing you wish you could be doing to further develop your career path
List at least one resource to use in developing your career path
SCHEDULE OF ACTIVITIES
12:00-12:05pm – Welcome
12:05-1:25pm – Presentation
1:25-1:30pm –Closing
ABOUT THE SPEAKER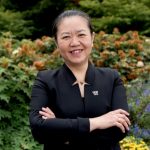 Tueng T. Shen, MD, PhD is a physician as well as an engineer at the University of Washington. She is an expert in medical and surgical management of corneal disorders, cataract surgeries and refractive surgeries. Dr. Shen received her Ph.D. in Medical Engineering and Medical Physics (MEMP) from the Massachusetts Institute of Technology and her M.D. from Harvard Medical School. She builds bridges between engineers and physicians to facilitate the translation of innovative engineering technology into creative clinical solutions to treat global blindness, particularly by leveraging technological advancements in polymer sciences, microelectronics and modern imaging techniques.
Dr. Shen established the first artificial cornea program in the Pacific Northwest at the University of Washington, turned it into one of the world's premier centers for the implantation of artificial cornea. The establishment of the artificial cornea program fulfilled unmet clinical needs of many patients of the entire WWAMI (Washington, Wyoming, Alaska, Montana and Idaho), providing care and improving the quality of lives of many of our patients with severe corneal blindness since 2004. The artificial cornea program also serves as a critical educational training in the ophthalmology residency at the University of Washington. Her long-term collaborations with the College of Engineering have also provided valuable interdisciplinary training environment for the next generation of physicians and engineers to jointly reshape the future of health care.
Professor Shen is the inaugural Associate Dean of Medical Technology Innovation, a joint position between UW Medicine and College of Engineering. In her new role, she plans to build strong partnerships with our local research and business communities to catalyze innovations that will transform health and healthcare of Washington and create products that will improve health equity for all Washingtonians. Professor Shen's research is supported by grants from NIH, NSF, Research to Prevent Blindness (RPB), Lions Foundation, Coulter Translational Research Fund as well as Washington Research Foundation. Professor Shen is a fellow of The American Institute for Medical and Biological Engineering (AIMBE) and she is a member of the Washington State Academy of Sciences.